In August, when we set out to inspire the world, we never thought we'd have this much reach SO quickly!
As of today, Daily Sage is grateful to announce that our inspiring messages are deployed all around the world (in 37 countries!!), every DAY.
We're proud to announce that we're inspiring people in:
Australia
Brazil
Canada
Cambodia
Croatia
Dominican Republic
Ecuador
France
Germany
Guam
India
Italy
Kazakhstan
Kenya
Kuwait
Latvia
Lebanon
Macao
Malaysia
Netherlands
Peru
Philippines
Puerto Rico
Republic of Korea
Romania
St. Lucia
Saudi Arabia
Serbia
Singapore
Sweden
Thailand
Turkey
United Arab Emirates
United Kingdom
United States
Vietnam
Zambia
Our network continues to grow and we appreciate you being along for the ride.
Please continue to share the app and your experience with family and friends!
#dailysageapp #inspiration #lifesbestadvice #daily #motivation #payitforward #cultivateoptimism
UPDATED:
Proud to announce that as of November 30, 2016 we are now broadcasting in 37 countries, every day (up from 31 when we first made this post). The list above (but not the graphic) have been updated accordingly! #thankyouforthesupport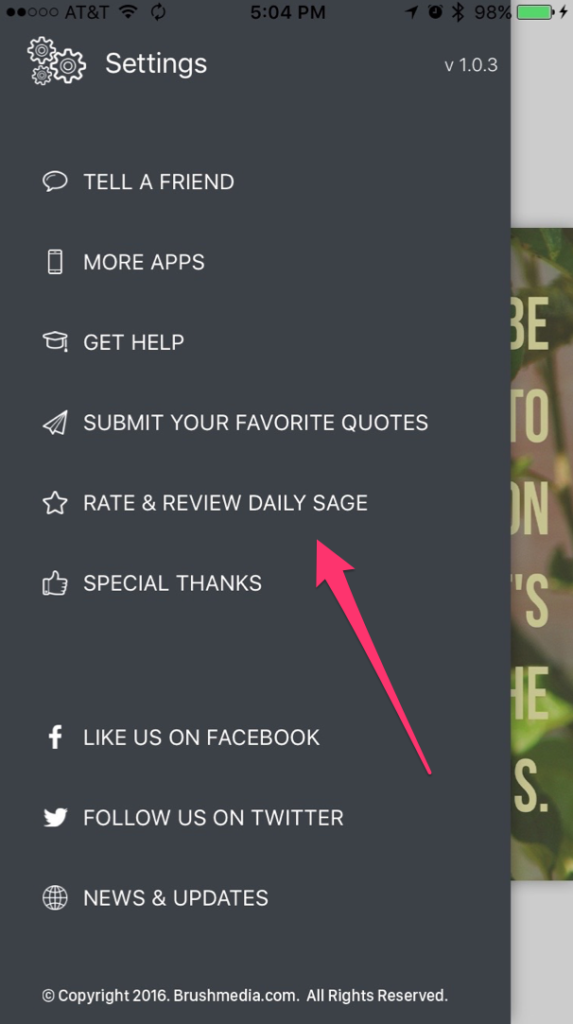 Hello, everyone! Thank you, AGAIN, for downloading Daily Sage and joining us on this inspired journey!
A few of you may have noticed the inability to (directly) rate the app through the settings panel.
We noticed the bug too and have repaired how the app communicates with the App Store!
Sorry for the inconvenience! Please let us know if you uncover any additional glitches! We'll get them patched ASAP!